THE SOLAR STREETLIGHT™
Hassle free lighting!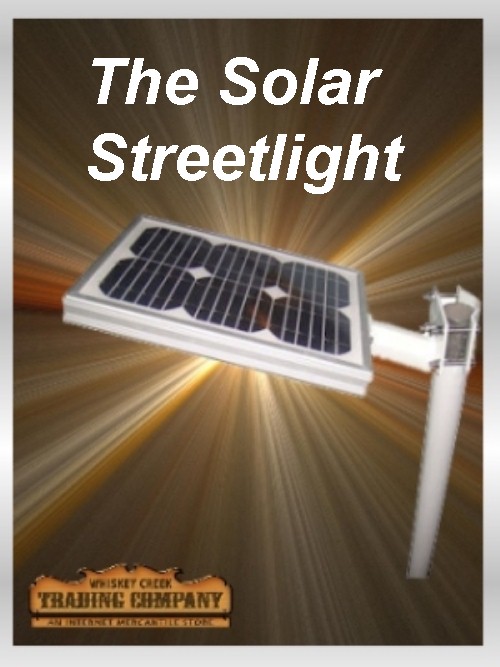 The Solar Streetlight™ with motion sensor is an intelligent outdoor lighting system that provides powerful lighting into an all-in-one compact package and is easy to install.
During the day the highly efficient solar panel collects energy from the sun and stores that power in the advanced lithium battery. At night the powerful LED's automatically turn on providing ambient light for all to enjoy.

When motion is detected, the super bright LED's increase in brightness to provide an abundance of extra lighting for anyone in the area. After 30 seconds or when motion is no longer detected, the light drops down in brightness to conserve power. This intelligent feature allows The Solar Streetlight to save power when no one is in range or utilizing the light, meaning a much longer run time than you would expect from a similar size solar lighting.
The motion sensor is the practical way to enjoy brighter than normal light when extra lighting is needed.

It combines a 30-watt solar panel, 10-watt high power LED's and a high capacity lithium battery into a slim and compact housing.
Key Benefits:
Self sufficient
No Electrical Cost
Easy to Install
No Wires or Cables needed
Long lasting Lithium Battery
Integrated motion sensor
Compact design
Cost savings
NOTE!
The mounting pole is not included. When the outdoor temperature drops below 32° for an extended period of time, the charging and discharging ability of the unit will be affected. Please, keep in mind that this is a solar charged light and not an AC powered light. The mounting of this light in a location that will allow it to receive as much sunlight as possible will allow for better performance.

Please be sure to take a look at our pictures on the "more info" page and see the benefits this light has to offer.