FOLD & GO PORTABLE DOCK CUSHION
Protect Your Boat with the Best!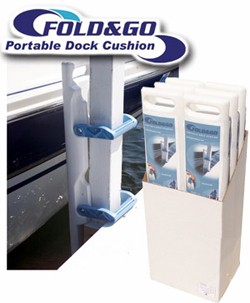 This innovative Portable Dock Bumper is the newest boating "must-have."
Protect and cushion your boat from scratching and scraping against rough posts with the durable and portable new bumper that is designed to fold and go with your boat.
Made in the USA of durable polyethylene with ultra-violet inhibitors, this portable dock bumper provides long-lasting protection and resistance to damage and yellowing from sunlight. The handles make this unit easily fold down to fit over any 4" or smaller round or square post and then fold up in seconds for easy onboard storage.
Don't be fooled by air filled bumpers. Protect your maritime investment with this top of the line bumper. Dimensions 7" x 4" x 40" each.
Please be sure to take a look at our pictures by clicking on the "more info" page and see the benefits this product has to offer.