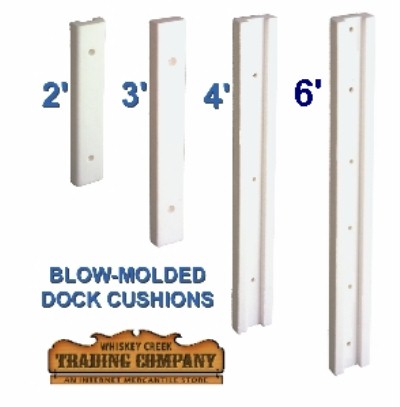 POLY BOAT DOCK CUSHIONS (Blow Mold)
Please scroll down this page to see the different styles of cushions we have to offer.
These cushions can easily be mounted to any dock system to provide maximum protection for your boat and dock.
Our durable cushions are designed to protect your boat by deflecting it away from your dock. They are made of tough and durable polyethylene with ultra-violet inhibitors and are made to last. They are recyclable and environmentally safe for both fresh and salt water.
These cushions won't scratch or mar boats and provide high visibility day or night. Molded-in counter bores allow recessing of your mounting bolts. (Mounting hardware is not included.) Hollow in the middle provides some give when struck by a boat.
Many of the cushions are available in "black" or "white" in color. These cushions provide the quality you expect.
Pay special attention to the back of the cushions as they are sized to provide the proper fit based upon the dimension of the posts on your dock.
Please be sure to take a look at our pictures by clicking on the "more info" page and see the benefits this product has to offer.