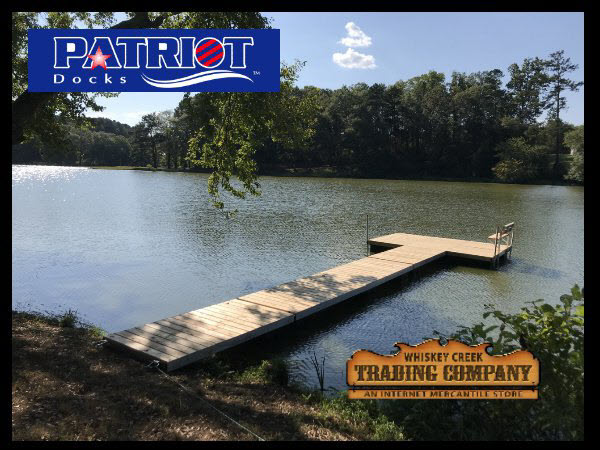 LOW PROFILE FLOATING DOCKS
Free Shipping and Free Accessory Kit with cedar, poly, or aluminum dock system purchase!

ALL DOCKS HAVE A 7 to 10 DAY LEAD TIME!
Patriot Low Profile Floating Docks are a great addition to any lake. These docks sit closer to the water than standard truss-framed docks allowing easy access in and out of the water. The dock frames measure 96"L x 48"W x 4-1/2"H and are made from marine-grade aluminum. They can be used in shallow or deep water. A wide variety of design options can be configured such as a straight dock, "L" or "T" shaped dock or a patio design.

The kit contains the frame as well as attractive brown or gray aluminum decking, cedar decking or poly decking, foam filled floats, piling sleeves and hinge kit(s).

Low-Profile frames can be directly bolted together or joined together with a hinge kit; end to end, perpendicular or in parallel. A hinge kit is suggested every 16ft. The hinge kit allows for approximately 25 degrees of articulation between frames which is great for fluctuating water levels. The included piling sleeve is used to attach 1-1/2" I.D. piling pipes to the dock frames.

Floating docks are excellent in deep or fluctuating water levels and extremely soft lake bottoms. Rectangular foam filled floats are used to support the floating pier. It is recommended that two rectangular floats are used for every 8ft of dock frame. Floating docks require little maintenance, as there are no post heights to adjust. Floating docks can be pulled up on shore or on smaller bodies of water they can be left in place during the winter. (Depending upon ice movement during the spring.) Floating docks are typically anchored in place using piling sleeves and posts that are driven down into the lake bottom. In especially deep water situations multiple crossing anchors can be used to hold the dock in position.

NOTE: Our customers are responsible for their own anchoring method and supplies depending upon their individual situation. We can help with ideas if needed.
Look carefully at the features of these rock solid residential dock systems and compare for yourself. Patriot Docks provide innovative solutions at an affordable price. Our modular and maintenance-free designs will let you spend more time having fun on the beach and on the water.

To help make your dock system purchase easier, our prices include Free Shipping and a Free Accessory Kit. The Dock Accessory Kit includes (2) Solar Deck Lights and (2) RM-4 Dock Cushions.

NOTE: Many of our customers will contact us before ordering a dock or components regarding handling and shipping times. In most cases it will take 7 days for the staff of Patriot to process and package your order. Then your order is shipped by an LTL carrier. It typically will take the LTL carrier 7 days to make the delivery to you. These times will vary depending upon the time of year you place an order with us. We strongly encourage ordering dock systems early in the spring to expedite delivery. Please feel free to contact us if you have any questions.

Be sure to take a look at our pictures by clicking on the "more info" page and see the benefits this product has to offer. We believe they will answer many questions for you.