COMMERCIAL MOORING BUOYS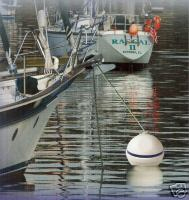 The innovative design of these mooring buoys is easy to recognize. Designed to be durable and attractive, these buoys have several new features and can be personalized with little effort.
The hard polyethylene shell has UV inhibitors to keep it looking new. Polystyrene foam fills the shell to provide maximum buoyancy. A steel tube is molded through the center of the 32', 38" and 42" buoys. An injection-molded collar captures the tube on each end and protects the buoy from wear.
These buoys can be used to mark waterways, can be rented to boaters at your marinas, or can be used to support the line to which you anchor your own watercraft.
These buoys are typically costing $400 to ship, please contact us for an exact shipping quote.
Please be sure to take a look at our pictures on the "more info" page and see the benefits this product has to offer.