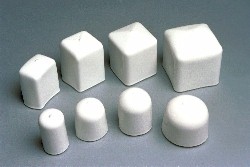 DOCK POST SAFETY CAPS and PILING CAPS
Please scroll down this page to see the different styles of caps we have to offer.
These Safety Caps are easy to install and help protect your post or piling from internal rust and rot. They protect you and your boat from scratches and scrapes. The caps provide high visibility day or night and improve the aesthetics of your dock and dock posts. Our Safety Caps are white in color and have a flexible vinyl/ rubber feel to them. In some cases you may need to put a wrap or two of duct tape on the pipe/post to give them a snug fit.
Please be sure to take a look at our pictures on the "more info" page and see the benefits this product has to offer.