SOLAR BOAT LIFT CHARGING KITS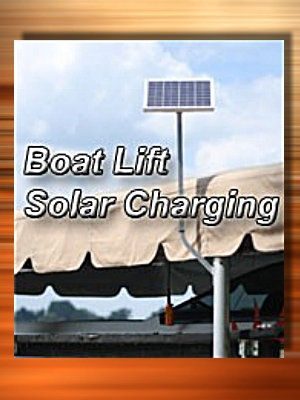 Go to the lake fully charged!
Are you tired of having to drag your boat lift or boat battery back to your home or cabin for charging? Now you can purchase just the right solar kit to keep your 12 or 24-volt battery system fully charged year around, right at your boatlift. No need to remove your battery and hook it up to an electric charger. Install one of our solar charging kits for year around convenience.
These kits include all the necessary parts and instructions for a complete installation!
We also offer a 12-volt/24-volt direct drive motor for use on many boat lift models. The lift motor replaces the wheel making the task of raising and lowering your boat lift easy. By directly attaching this motor to your lift you can raise or lower your lift with the turn of a key or the push of a button. We guarantee that if you replace your wheel with one of our drive motors, you will use your boat more often.
Please be sure to take a look at our pictures on the "more info" page and see the benefits this product has to offer.