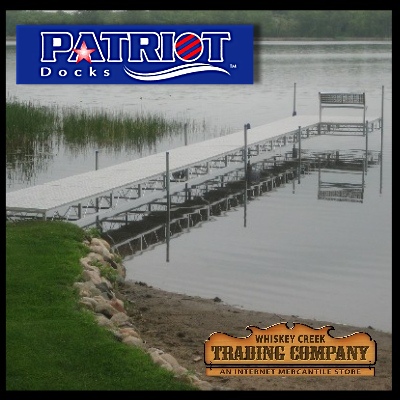 ALUMINUM TRUSS FRAME DOCKS
Free Shipping and Free Accessory Kit with cedar, poly, or aluminum dock system purchase!
These residential docks are simple to assemble and strong in strength. The modular design provides the ultimate in shoreline enjoyment. Any property owner would be proud to have one of these clean looking docks.

A wide variety of lengths and designs are available from a straight dock to a patio dock. You can customize your dock into an "L" or "T" or finger dock if needed. You can choose from either a free standing or roll-in model with either cedar, poly or aluminum decking. The options are endless.

The 4'x8'x12" deep aluminum truss frames have welded and bolted connections. With the use of 7/16" diameter aluminum chord rods, not 3/8", the strength of the docks are greatly improved. The pipes are all 1-1/2" I.D. schedule 40 steel, not lighter weight steel tubing. The pipe brackets are extra-long with two - not one - stainless steel set bolts. These docks have a limited Lifetime Warranty on the aluminum components.

Take a close look at our residential docks. These are not ordinary truss docks. Look carefully at the features these rock solid dock systems have and compare for yourself. Patriot Docks provide innovative solutions at an affordable price.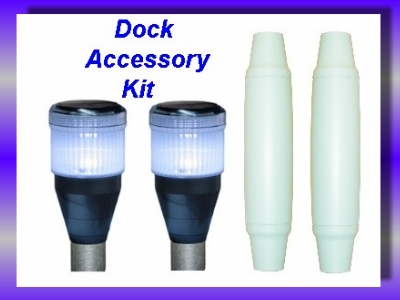 Our modular and maintenance-free designs will let you spend more time having fun on the beach and on the water.

To help make your dock system purchase easier, our prices include Free Shipping and a Free Accessory Kit. Kit includes 2 post mount solar dock lights and 2 torpedo cushions.

NOTE: Many of our customers will contact us before ordering a dock or components regarding handling and shipping times. In most cases it will take 7 days for the staff of Patriot to process and package your order. Then your order is shipped by an LTL carrier. It typically will take the LTL carrier 7 days to make the delivery to you. These times will vary depending upon the time of year you place an order with us. We strongly encourage ordering dock systems early in the spring to expedite delivery. Please feel free to contact us if you have any questions.

Be sure to take a look at our pictures by clicking on the "more info" page and see the benefits this product has to offer. We believe they will answer many questions for you.
ALL POLY, ALUMINUM, AND BUILD YOUR OWN DOCKS SHIP WITHIN 7-10 DAYS!
Choose Your Decking or Add On-Build Your Own Components