SOLAR DOCK LIGHTING
Please scroll down this page to see the different styles of solar dock lights we have to offer.
The Solar Dock Lite™ is a great way to light up your dock or pier. During the day the solar panel collects the sun's energy and charges the batteries. At nightfall, Solar Dock Lite's sensor automatically turns on the super bright LED.
With multiple units your dock will provide an elegantly lit pathway for all to walk on. This unit is hands free and energy efficient! Lasts 20+ hours on a full charge and is brighter than conventional solar garden lights!
Just place it on your dock or post and you are ready to go!

For Round Post/Pipe
The Solar Dock Lite™ has a patent pending "universal" fitting design which allows it to adapt to most common dock posts. Fits post sizes: 1-5/8" OD, 1-7/8" OD, 2-3/8" OD, 3-1/4" ID, Brock Docks, 4x4 wood post, and flat surfaces. Pipe size varies slightly everywhere you go so depending on your post/pipe it may be necessary to use a layer of duct tape around your post for a perfect fit, but its that simple!

For Square Post/Pipe
If you have a dock that has 2"x2" posts, we also have Solar Dock Lites available for your application. These lights will fit a 2"x2" sharp square post or a 2"x2" post that has rounded corners or 2"x2" 5-sided posts which is used on Shore-Master Docks.

For Rectangle Post/Pipe
Is your dock a Porta-Dock? If so, chances are you have 1-1/2"x2" posts. We also have Solar Dock Lites for you!

TWO PACK BOX CONTAINS
• 2 Solar Dock Lites
• 2 NiCd Batteries
• 2 Clear LEDs

• 2 Long Set Screws
• 2 Short Set Screws
Your dock was an expensive investment and we encourage you to protect it from unwanted boating collisions. Lining your dock with Solar Dock Lites™ isn't just for looks. It adds safety as well.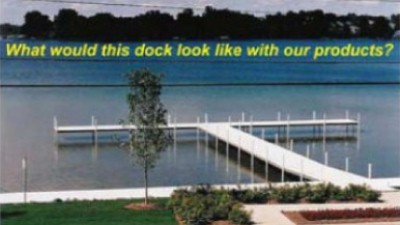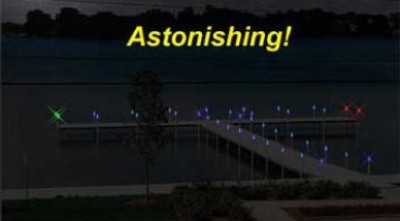 What's Your Favorite Color?
Five Different Color Options Available!
(Sold Separately in Pairs)
That's right, your Solar Dock Lite is the only solar powered light in the world that has the ability to easily interchange different color LED bulbs! Since we think it's so cool, we decided to make available five colors! We know that everyone's favorite color is not the same, so choose from Red, Blue, Orange, Green or Yellow! After all, who wants the same color as their neighbor?
Each Solar Dock Light comes standard with a "clear" bulb.
Please be sure to take a look at our pictures on the "more info" page and see the benefits this light has to offer.