SOLAR DOCK CLEATS
Secure Your Boat to the Dock and Save Your Toes!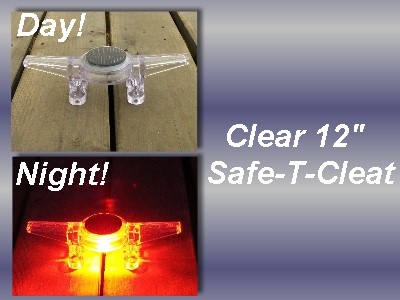 How many times after cruising around the lake in the evening have you pulled up to your dock and fumbled around looking for a flash light so you could find the dock cleats to tie up your boat. Or walked out on your dock at night, and the only thing you can find is the dock cleat with your big toe! With this unique product you can solve both problems at once. These solar powered dock cleats will make finding your dock and mooring your boat easier as well as safer when walking on your dock after sunset.
They are manufactured from high impact plastic to ensure long life. The bright LED bulb will turn on at sunset and last up to 18 hours after being charged by the sun during the day.
We can't think of a better way to add safety and beauty to your dock.

"These Solar Cleats are quite possibly the coolest thing to hit the dock market yet!"
Cleats are sold individually - not as a pair.