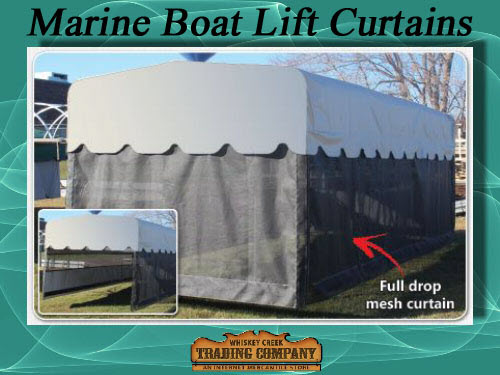 Boat Lift Curtain / Skirt
(fits Hewitt - Flared Front boat lift frames)
Free Shipping on any Marine Curtain / Skirt purchase!
Boat Lift Curtain / Skirt Features:
Zippers in each corner for easy installation. If a panel is damaged, it can be unzipped and replaced.
(1) Dock-side roll-up panel with 3 access locations. 1/3 front, 1/3 middle and 1/3 end.
(1) Solid mesh side panel.
(1) Large roll-up boat door access end panel.
(1) Solid mesh end panel.
Around the bottom perimeter of the panels are pipe pockets for PVC pipe (up to 2") to help protect against wind whip. (Pipe not included.) This needs to be done by the customer to prolong the life of the curtain.
Adjustable side-release attachment clips to ensure fit and tension.
80/20 sun restriction with the mesh material.
All curtains made with straight cut bottom hems.
30 day warranty for craftsmanship defects only.
Purchase with confidence knowing you are buying one of the best marine curtains / skirts in the industry!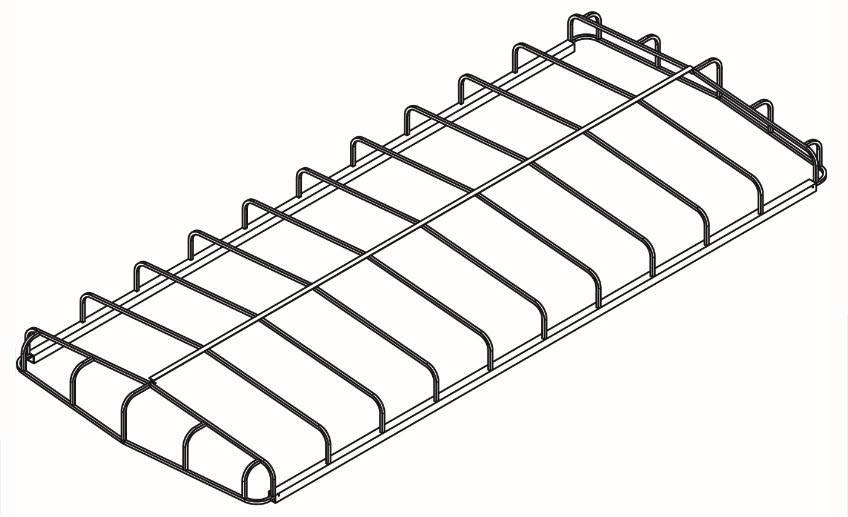 REMINDER: Measure carefully! All marine curtains / skirts are "made-to-order" and are thus specific to your order. Please feel free to contact us if you have any questions.

Choose Your Size Carefully!
*ALL MEASUREMENTS (+ or - 1")
PART NO. FLARED FRONT
SIZE
OVERALL LENGTH "A"
INSIDE WIDTH "B"
SIDE RAIL LENGTH "C"
OUTSIDE WIDTH "D"
PRICE
HW2200100-MC
22' X 100"
22'
94 1/2"
20"
100 1/2"
$958
HW2400100-MC
24' X 100"
24'
94 1/2"
22"
100 1/2"
$1017
HW2600100-MC
26' X 100"
26'
94 1/2"
24"
100 1/2"
$1075
HW3000100-MC
30' x 100"
30'
94 1/2"
28"
100 1/2"
$1193
HW1800110-MC
18' X 110"
18'
104 1/2"
16"
110 1/2"
$869
HW2000110-MC
20' X 110"
20'
104 1/2"
18"
110 1/2"
$928
HW2200110-MC
22' X 110"
22'
104 1/2"
20"
110 1/2"
$987
HW2400110-MC
24' X 110"
24'
104 1/2"
22"
110 1/2"
$1045
HW2600110-MC
26' x 110"
26'
104 1/2"
24"
110 1/2"
$1105
HW2800110-MC
28' X 110"
28'
104 1/2"
26"
110 1/2"
$1164
HW3000110-MC
30' X 110"
30'
104 1/2"
28"
110 1/2"
$1223
HW2300120-MC
23' X 120"
23'
114"
20"
120"
$1031
HW2500120-MC
25' X 120"
25'
114"
22"
120"
$1090
HW2700120-MC
27' x 120"
27'
114"
24"
120"
$1148
HW2900120-MC
29' X 120"
29'
114"
26"
120"
$1208
HW3100120-MC
31' X 120"
31'
114"
28"
120"
$1267
HW1200138-MC
12' X 138"
12'
132"
10"
138"
$751
HW2300138-MC
23' X 138"
23'
132"
20"
138"
$1075
HW2500138-MC
25' x 138"
15'
132"
22"
138"
$1134
HW2700138-MC
27' X 138"
27'
132"
24"
138"
$1193
HW2900138-MC
29' X 138"
29'
132"
26"
138"
$1252
HW3100138-MC
31' X 138"
31'
114"
28"
138""
$1311
HW3300138-MC
33' X 138"
33'
132"
30"
138"
$1370
HW3500138-MC
35' X 138"
35'
132"
32"
138"
$1429
HW3700138-MC
37' X 138"
37'
132"
34"
138"
$1487
HW4200138-MC
42' X 138"
42'
132"
40"
138"
$1635
HW4500138-MC
45' X 138"
45'
132"
42"
138"
$1723
**If dimensions don't match above, contact us for additional detail sheet**