RESIDENTIAL FLOATING DOCK HARDWARE!
Limited Quantities Available!
Please contact us for availablilti before purchase.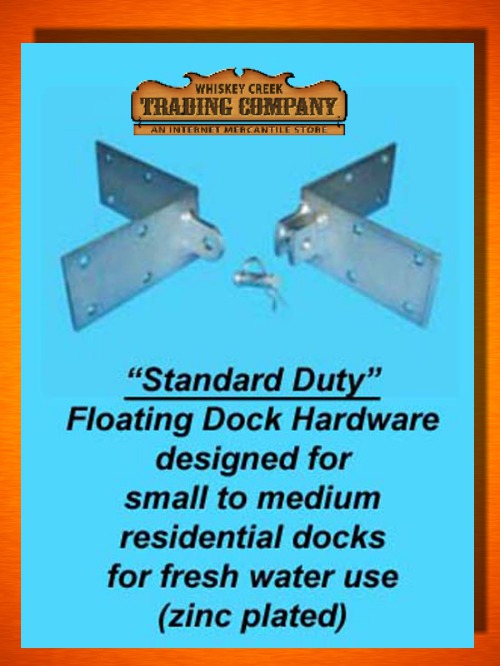 Enjoy the waterfront without all the expense.
We are offering this line of residential floating dock hardware at the request of our customers who prefer to build their own docks and donít want to have more money invested in the hardware than in the rest of their dock.
This hardware along with our dock floats is a great combination for the do-it-yourself projects. This line of boat dock hardware is specifically designed for use in calmer water areas free of strong currents and gusty winds. The hardware is fabricated from steel and then is either hot-dipped galvanized or zinc plated for long lasting service.
By using 2" x 6" lumber and 5/16" galvanized carriage bolts, our hardware makes the novice a pro when building a floating dock or swim raft. Why invest twice as much money in commercial grade dock hardware, when only you and your family will be using the dock.
Building a dock usually requires an assortment of components. Please, contact us before placing your order, we would be happy to answer any questions you may have.
Please be sure to take a look at our pictures on the "more info" page and see the benefits this product has to offer.
These products are being discontinued by the manufacturer. Limited quantities available. Please contact us to confirm availability.