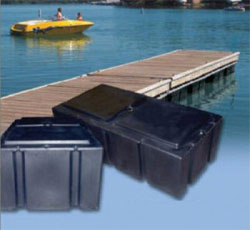 RESIDENTIAL AIR FILLED DOCK FLOATS
Floats are air-filled, making them lighter and easier to assemble.
Environmentally friendly, these floats are made of a tough virgin polyethylene with ultraviolet inhibitors to prevent sun damage. The rotationally molded shell is made in one piece, providing seamless, watertight construction.
Floats are easy to assemble to any dock frame and are perfect for residential private docks only. Floating docks are to be placed only on calm water where minimum wave action occurs. No white caps! Each floating dock should consist of at least 100 square feet. This can be obtained by bolting several dock sections together that then totals 100 sq. ft. or more. Example: two 5 ft. x 10 ft. dock sections.
Free Shipping in the Continental US for all Dock Floats!
Contact us for $5 per float discount for 6 or more floats and $10 per float discount for a quantity of 12-24 floats
Please be sure to take a look at our pictures on the "more info" page and see the benefits this product has to offer.